Official Site for the
original The Obsessed
from 1979 to 1986
Check back for photos,
bios, links, and lots more.
obsessed@theobsessed.com
Join mailing list. 2009/10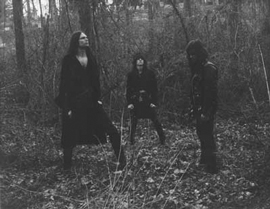 Mark Laue, Scott Weinrich, and Dave Flood
Scott "Wino" Weinrich
Guitar, Vocals, Founding Member

Mark Laue
Bass, Founding Member

Johnny Reese
Guitar, Vocals, Founding Member

Dave Flood
Drums, Founding Member
Eddie Gulli - Drums

Vance Bockis
NEWS: Reese Laue Kalimon Project
SHOD X FESTIVAL, Krug's Place
Frederick, MD 9/4/2009
The Reese Laue Kalimon Project features Johnny and Mark, founding members of
The Obsessed, and Ronnie Kalimon, drums myspace.com/reeselauekalimonproject
SHOD X Lineup included Unorthodox with Dale Flood, Ronnie Kalimon, and Mark Laue, bass.